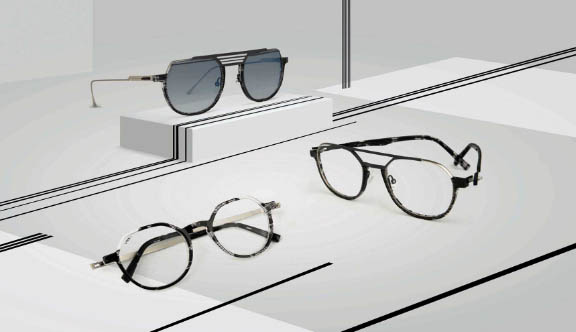 3D A WORD FROM THE DESIGNER

I've always been fascinated by my father's hands as he car- ved stone. My being a designer is a tribute to him. I grew up with the magic of seeing silhouettes, shapes and lines suddenly appearing out of stone...
I decided to make this memory the guiding force behind the Dilem 3D model.
The striking aesthetic choices made confirm the original inspiration and the impressive sense that we've carved the frames directly from the material. These choices are expressed powerfully on the Show mo- dels, originally on the Studio models, and more discreetly on the Live! models:
/ Lines and strokes... omnipresent on the Show model, they can also be found in the other ranges through the pure lines and geometry of the shapes, elegantly striped acetates and double-bridges (on some references).
/ Intriguing contrasts... On the Show and Studio models, the colour of the metal suddenly disappears, creating a sense of emptiness around it.
/ Illusion of depth... 3D features abrupt contrasts between materials that are emphasised by a sudden cutaway. In the LIVE models! with their air of apparent conventionality, the carved acetate transitions from matt to gloss and opaque to translucent.
The result?
The rhythm of the lines, cutaways and sudden switches between materials gives 3D its unique character and contemporary look. »
By Christèle Designer … trait for trait !